neos. definition: new or new again
origin: greek νέος (neos)
Are you ready for something new? NEOS is coming – in the centre of Bremen's Technology Park. At this highly modern rental building is where the power of innovation and networking go hand in hand. The place to be for all visionaries.
Spanning 15,000 square metres, the office space provides an inspiring working environment – opening up new dimensions and synergy effects for your company. In addition to tenants such as encoway GmbH, the main DIGITAL HUB Industry of the State of Bremen awaits you in NEOS, across 7,700 square metres of office space which you can design as you like. Starting at 195 square metres – and going up to multi-storey spaces – your office space layout can be created to satisfy your needs.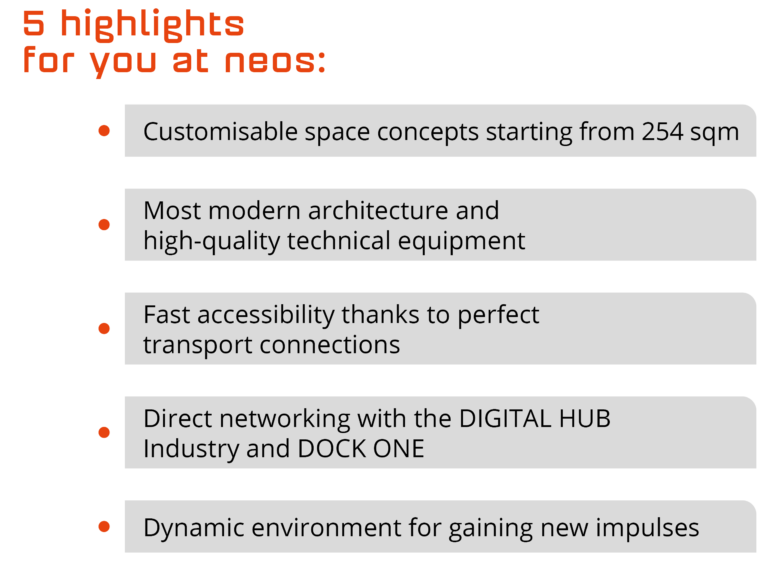 a new outlook on your
digital development
With Wirtschaftsförderung Bremen, the agency for economic development in Bremen, and the main tenant encoway, NEOS is a unique place for research and technology – and your company has direct access to these. Become part of an innovative and inspiring ecosystem perfectly set up for digitalisation and Industry 4.0.
NEOS is also home to the Digital Hub Industry of the State of Bremen, the first and only incubator state-run incubator in Bremen. The initiative supports start-ups and young entrepreneurs from various industries in their growth ambitions.
In DOCK ONE is where you can set anchor. The highly modern innovation centre from encoway has been specially created to encourage interdisciplinary and innovative work. The symbiosis of research and established business with talents and experts from the digital scene forms a hotspot for digital developers. If you're looking for new opportunities for your company, this is the right place for you.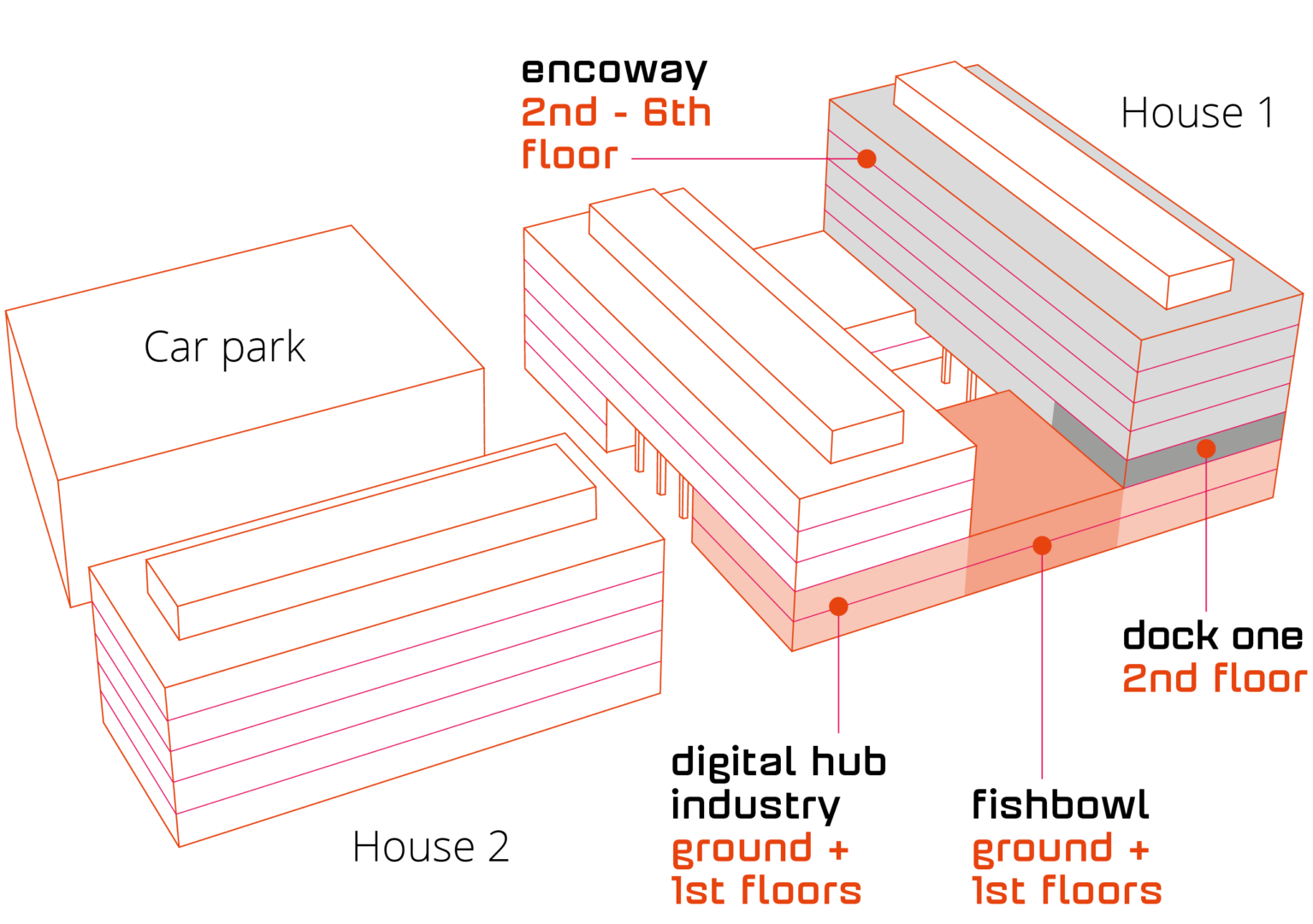 close to a unique ecosystem
You'll profit from a very special feature of NEOS: the Open Innovative Lab from the Lenze-Gruppe's DOCK ONE. It is located directly in the main building and open to you to take advantage of its first-class synergy concept.
Spanning two floors are highly modern research and development labs, co-working spaces and a 500-square-metre event space for anyone to use. From a minimum rental period of 12 months, you also have the chance to start up your own innovation office at the Lenze-Gruppe on 25 to 75 square metres of space.
This enables you to save resources and set up more efficient development processes.
Lots of potential is ready for you thanks to the closeness to experts at the Digital Hub Industry and researchers from the University of Bremen. What's more, the university is just the right spot for recruiting young talents.
new ground
without limits
NEOS is arising in the centre of Bremen's Technology Park. The university, research facilities and business entrepreneurs make the lively, interdisciplinary environment what it is. Thanks to its direct connection to the University of Bremen and a high concentration of young talents, which is exceptional in Germany, the region stands for dynamics and the future.
The leisure-time activities and the infrastructure of the Hansestadt make the up-and-coming virtually drawn to NEOS. On top of that, lunching opportunities are in the direct vicinity – such as the KUBUS restaurant in Wiener Straße, the university canteen in Leobener Straße or the café UNIQUE in Enrique-Schmidt-Straße. Sport Lounge Munte is also nearby with fitness opportunities.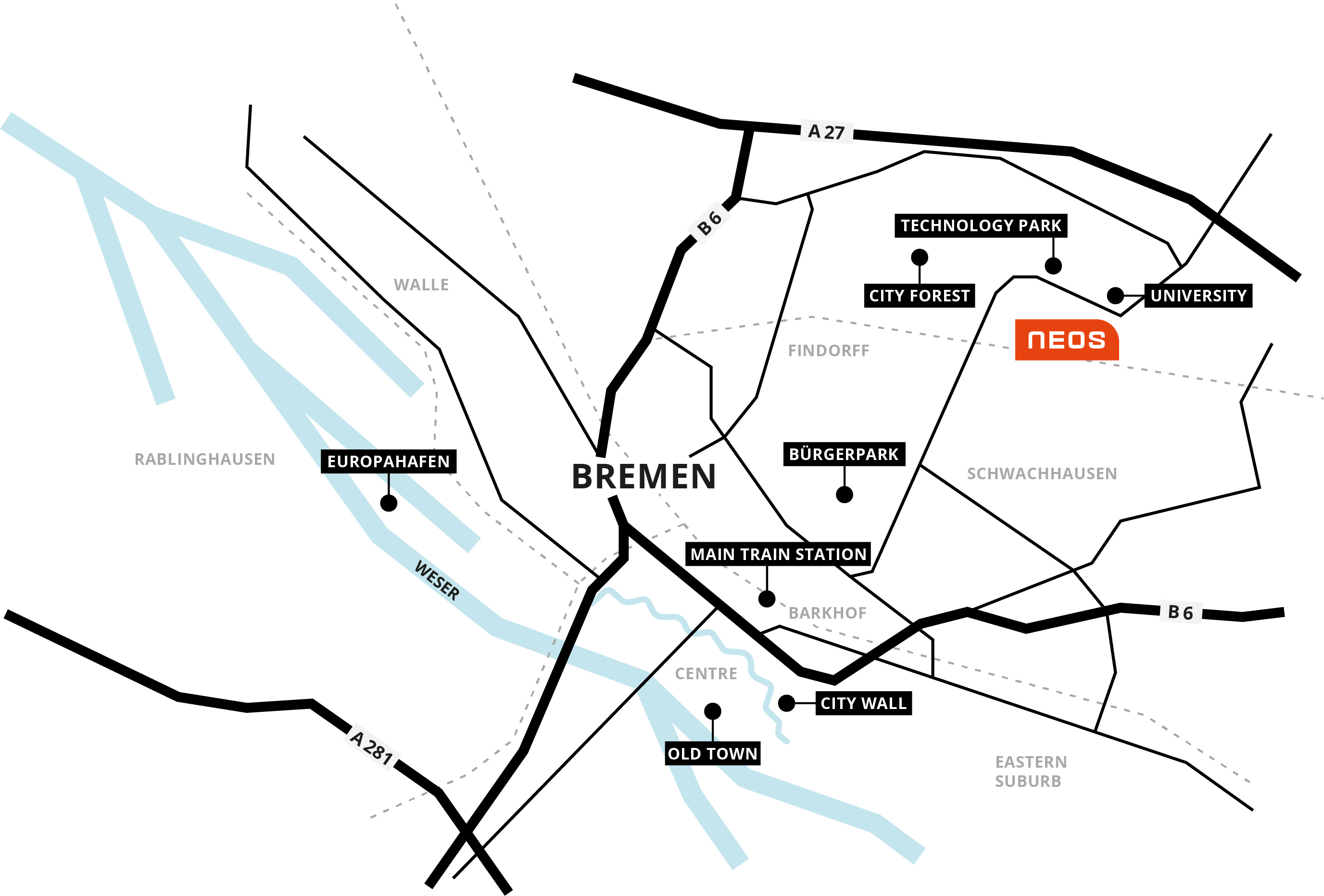 5 min. by foot
Public transp., Lise-Meitner-Str.

7 min. by foot
University of Bremen

5 min. by car
A 27, Bremen Horn-Lehe
9 min. by car
Main train station

13 min. by car
City centre

18 min. by train
City centre

18 min. by train
Bremen Airport

exactly the right amount of space
The modern areas in NEOS offer a high level of flexibility and the freedom to design the space as you like. In addition to the traditional office layouts, you can also enjoy innovative use concepts like multi-space or open-space areas, which can be easily realised.
NEOS consists of two separate buildings where companies can unfold as they desire. Starting from 254 square metres in House 1 and 195 square metres in House 2, up to an overall rental space of 7,700 square metres, offices can be laid out and fitted to satisfy your needs.
Even more highlights:
Flexible wall set-up on request
Multi-storey spaces possible
Up to 400 sqm of wall-free space
Raised and cavity floors
Façade blinds and cooling ceilings
Fully outfitted pantries
Car park with 238 parking spaces and
198 bicycle spaces
House 1
Completion in January 2022
House 2
Completion in May 2022
opening in january 2022
Developed as a joint project with the Senator for Economic Affairs, Labour and Ports, the University of Bremen and the industrial company encoway, the use concept of NEOS, takes a leading role.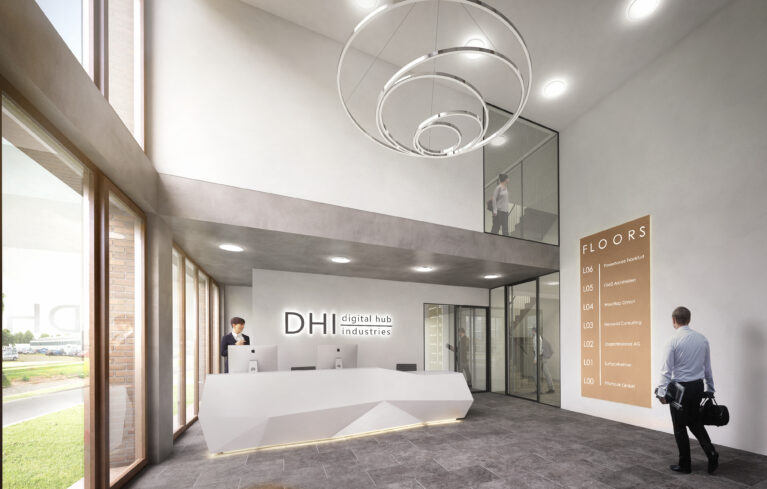 Property
10,200 sqm
Overall rental space
15,000 sqm, freely rentable space 7,700 sqm
Car park (238 parking space, 198 bicycle spaces)
Rental space
House 1: freely rentable space of approx. 5,000 sqm
House 2: expansion of 3,900 sqm
Scheduled completion
House 1: January 2022
House 2: May 2022

Features
Raised and cavity floors, façade blinds, cooling ceilings, ventilation, floor-standing lamps, pantries
Partial rental
House 1: from 254 sqm up to 5,000 sqm (available)
House 2: from 195 sqm to 3,900 sqm (available)
Architects
GMD Architekten
Owners / Project developers
Konrad-Zuse-Straße Bremen GmbH & Co. KG
Powerhouse Frankfurt GmbH & Co. KG